Guess most of you have accidentally deleted photos. They could be your graduation photos, family pictures or work images. There are plenty of ways to recover your deleted photos and this post will target at Mac users.
Recover deleted photos on Mac without software
Method 1: Restore deleted photos from Mac Trash
You'll notice there's no Delete option when you try to delete a file on any storage devices, including your startup drive, an external hard drive, or an SD card. You can only move it toTrash (If the Mac is running macOSCatalina while the system languageis English UK, it should be Bin instead).If you have moved photos to Trash but didn't empty it, lucky you. You can follow the below operations to recover your deleted files.
Step 1: Open the Trash on the dock.
Step 2: View a list of files that you have deleted recently.
Step 3: Right click the photos you want to restore and choose Put Back to its original location.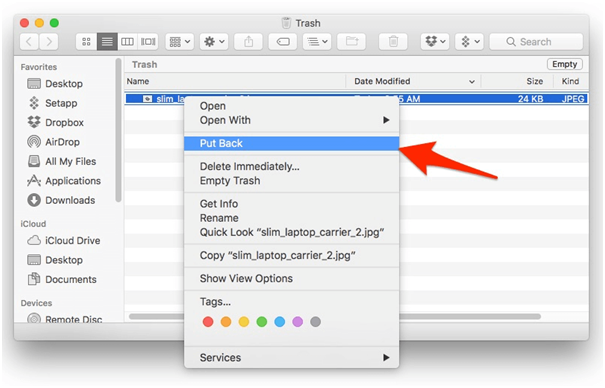 Now your photos should be back to the original location. However, if you happen to empty the Trash, or delete the files immediately in Trash, this method doesn't work.
Method 2: Recover deleted photos using Time Machine
Time Machine is a built-in backup feature of your Mac to automatically back up all of your files, including apps, music, and photos. If you happen to back up your computer using Time Machine before you delete the photos, congratulations! You can now restore the deleted photos with ease. Here's how:
Step 1: Click Apple icon. Select System Preferences… and then click on Time Machine.
Step 2: Check Show Time Machine in menu bar.
Step 3: Connect your Time Machine backup drive with the Mac computer.
Step 4: Open the folder where you stored your deleted images.
Step 5: Click the Time Machine icon in the top right menu bar and select Enter Time Machine.
Step 6: You'll see all the backups of this folder and you can click up and down arrow to find the file you want to restore. You can also use the timeline on the edge of the screen to locate.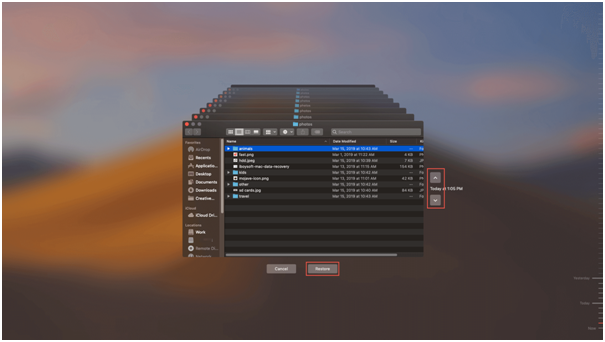 Step 7: Select the file and click Restore.
The Time Machine will copy the file back to its original location. However, it's possible that you don't have a Time Machine backup. In this case, a professional data recovery software might be a good option.
Recover deleted photos on Mac with professional software
iBoysoft Data Recovery is a deleted photo recovery program that can help you recover deleted photos, pictures or images successfully and effectively. It supports various image file formats including JPG, PNG, BMP, EPS, TIF, etc. It is also capable of recovering videos, music, audio, documents and emails either from a computer hard drive or a removable external drive. With iBoysoft Data Recovery, photo recovery is no big issue and you can retrieve your valuable family photos, work photography pictures and other images. Here we'll show you the easy and simply operations:
Step 1: Download and install iBoysoft Data Recovery on your computer.
Step 2: Launch iBoysoft Data Recovery and choose the drive from which you deleted your photos.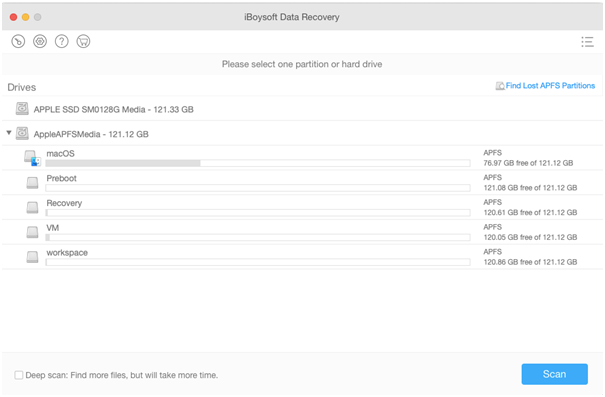 After clicking Scan button, iBoysoft Data Recovery will start searching for all deleted photos.
Step 3: You are allowed to preview the scanning results, choose the photos you want to get back and then click Recover button.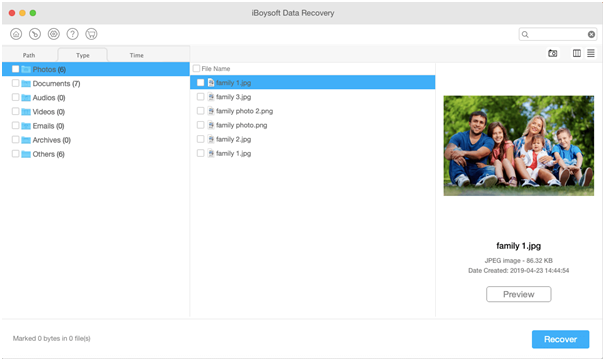 It's worth-mentioning that data recovery software is not able to restore your data to its original location. If deleted files cannot be found in quick scan mode, we suggest you resort to deep scan mode and try again.
Further reading: Why deleted files can be recovered?
When storing data on a storage device, no matter it's the fixed disk drive or any external storage device, the operating system writes down two sets of information of the data on the device. One is called the reference, also known as the file record, which contains information like the size and initial position of the file. And the other is the data section which stores the real content of the file.
When you are deleting a file, you might think the file is removed. But actually, it's not. The deletion just changes the state of the reference, making it hidden, marked, or removed based on the rules of different file systems. As a result, the operating system can no longer access the deleted file through its original reference. However, the content of the file is still on the storage device unless it's overwritten by other data.
Since the data is not erased, with methods to repair or rebuild the reference, you can have access to your files.