Tonor USB Microphone comes with driver-free and plug and play design where USB Cable plays a major role to connect with any platforms. Since, it is equipped with high-quality cardioid microphone capsule, it provides reliable and accurate pickup. In the microphone package, you will get a stand that features a 3-legged base that retracts and folds up easily. Simply unfold the three-legged stand directly and adjust the position of the pop filter. Without any assembly, plug it easily and start playing it. The USB Microphone comes with the complete set containing: Mic with power cord, Mini Shock Mount,Tripod desk stand with folding feet, Pop Filter, Service Card and manual. Just plug it and have an immense pleasure of streaming, vocal recording, gaming, voice-over, voice recognition, YouTube video, Skype and much more.
Let's Unbox TONOR USB MICROPHONE Kit
What are you waiting for? Just unbox Tonor USB Mic kit and you're ready to go.
The microphone
The tripod desk stand
The shock mount
Built-in pop filter
A foam cover
A manual
A service card
DESCRIPTION:
Serving a wide variety of purposes, let's have a glance on its various advantages:
Plug and Play:As the name suggests, TonorUSB microphone is easy to connect with both Mac and Windows computer using a single USB. No extra driver software or sound card is needed for connection. It is totally compatible with Windows, MAC, Chrome and Linux platforms.Along with podcasting, live streaming, music/video recording; it is also perfect for gaming and online chatting.
Exceptional Sound Quality:Tonor USB Microphone is equipped with a large diaphragm and professional sound chipset which makes the sound range of low and high frequency wider and the sound quality more exquisite. Undoubtedly, you can enjoy a perfect combination of extended dynamic range with clarity. Also, the device captures pristine and accurate sound and cancels noise from surroundings. For today's generation, it is the perfect choice for recording, podcasting, videomaking and communicating.
Cardioid Pickup Pattern: The mic has a cardioid pickup pattern that captures the clear, smooth and crisp sound and suppresses unwanted background noise.
Complete Microphone Set:The set includes a condenser microphone, table mounting clamp, metal shock mount, pop filter, adjustable suspension scissor arm stand, foam windscreen, USB cable and manual. All these accessories are premium and make Tonor USB Microphone a perfect choice for you.
User-friendly Design:Tonor recording microphone is easy to use as it comes with a convenient volume button. Simply short press for adjusting mic volume level and long press for turning off the microphone.
Durable Boom Stand:Made of thick, high-quality metal material and durable, USB microphone has a sturdy all-metal suspension scissor stand that extends vertically to give a good support, bearing capacity and strong stability to complete system. The professional shock mount is durable and can be unscrewed and attached to a boom stand to remove unwanted low frequency rumble.
Compatible with all operating systems: With USB data port, microphone is compatible with both Windows and Mac OS computers. Simply plug and play and no need any extra driver software or an external sound card.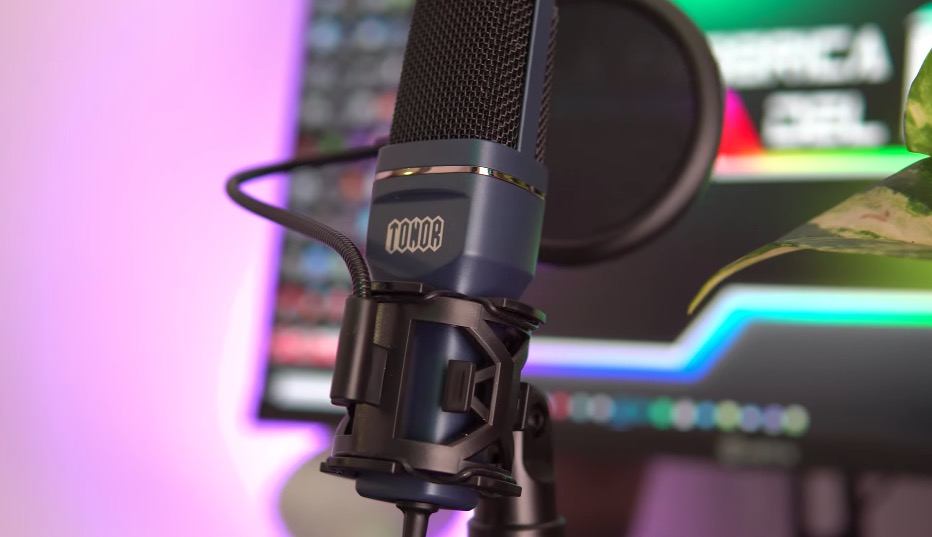 DESIGN AND FEATURES:
Tonor USB Mic is simply a small and lightweight microphone with a plastic body and a metal grille which has a built-in USB cable. Complete body looks attractive and professional as well. The stand legs and the pop filter are made of metal, so it has strength where it needs it.  Put it anywhere or on your desk and start the fun.
Have a Comfortable Experience with TONOR USB MICROPHONE
USB Microphone is compact and completely ideal for desktop use. Assemble the kit in just a few minutes and use it indoor or outdoor. The main advantage of using mic outdoors is that it can be useful for eliminating wind noise.Since it is attached via a reinforced mount, it can flex easily without getting damaged. You can position it anywhere on your desk with the relatively long cord and this will reach your PC. The clarity is amazing for the price, go for it and feel the difference in your life. Here, we are discussing few of the major advantages that will benefit you in many ways:
Easy set up with excellent sound quality.
Durable build quality.
Good frequency response and low distortion.
Equipped with large diaphragm.
No need to install any external driver.
No need to buy power supply peripherals.
Latest anti-noise technology.
Adjust the volume accordingly.
Contains a switch indicator.
Looks professional.
Have adjustable stand of thick base.
Reduces windy sounds from air moving over mic.
The whole kit features a simple design without any adjustable settings on its body and helps contribute to better audio due to less surrounding noise from vibrations. Perfect for someone who doesn't need anything but enjoy to see this kind of technical fusion.