Without any doubt, mobile applications have been a major part of our lives and we cannot envisage our lives without them. Over the past few years, these also have become an important trend for generating revenue for the business and this trend continues to grow over the upcoming years.
To create a good place in this emerging marketplace Google Play ASO is still the best way for marketing the app using the best practices. For generating leads from your mobile app you need to invest your money and time in marketing or advertising your app into a variety of channels for which you need to focus on app store optimization.
Here in this post, we will provide you with complete details about the basics of ASO through which you can boost organic traffic on your app that will eventually increase the ROI for your business. The things which we are going to mention here in this blog are; why it's necessary to rank in the top results in the Android Store search, how to choose right keywords for the app, and how to make the app title and description appealing are the key elements of your app listing in the Google app store.
Why Google Play Store Optimization Is Important?
Just like Search engine optimization is important for ranking the website on the search engine, ASO is important for mobile applications. ASO is the SEO for the app. This process helps in increasing the traffic and visibility of the application in the store.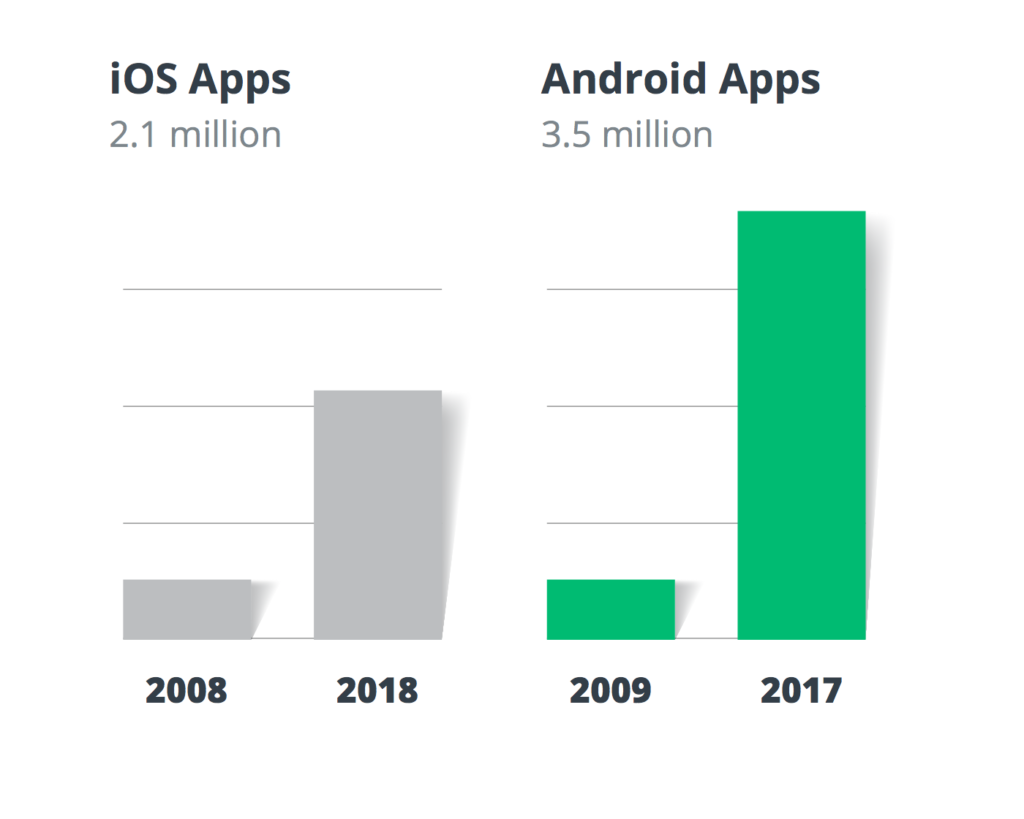 Mobile store download statistics
App Store Optimization helps in promoting the app on various channels that will boost the high-quality organic traffic. The organic traffic can't be undervalued. With the current market trends, app store optimization services is not a technique anymore; it is a need of the hour to stay updated with the latest algorithms.
Some statistics related to Google Play Store
According to market reports, 50% of daily mobile app users search for applications on the app store at least once a week, and only 63% of apps are discovered in the app store searches.
A shocking 83% of mobile apps are invisible, and considered as Zombie Apps! These zombie apps do not appear in the search list, thus investing in the Google play store optimization technique is crucial.
There are about 2.56 million mobile applications on Google play store thus making the android app store the leading platform for users.
In 2019 the ROI generated by Google Play store grew by 24% to $7.7 billion even though 75 percent of mobile devices globally use android applications.
The no. of downloads of Google Play Store data is just about 250 million per day.
As per the latest reports about 42000 applications on the Android app store are priced less than 1 U.S dollars, and more than 96%percent of applications are free in the Google play store in 2019.
Hopefully, with all this data you will get clear about why ASO is important for applications. Now it is time to focus on the ways through which you can boost the business growth via play store app search optimization technique.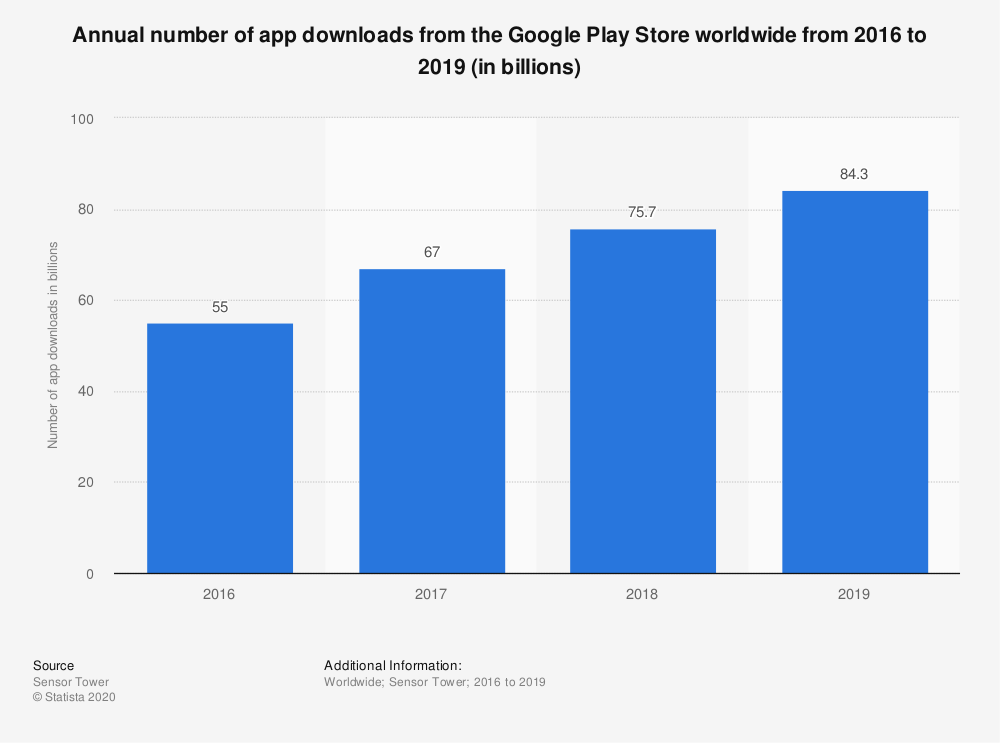 10 ways Google App Store Optimization Benefits Your Business App:
In case you haven't still convinced that you need ASO practices to enhance the traffic on your app then below mentioned are some key benefits that will certainly change your mind.
Boost Organic installs of the app
The organic download rate of the app directly lower downs the acquisition costs related to the app. The app optimized with the right set of keywords eventually ranks in the top search engine results, thus improving the app visibility and download rate.
ASO helps you in using the right set of keywords in your app title and description that people mostly use to search app. This step increases the chances of getting your app in front of the right user.
With the right strategy, you can create paid campaigns for your app through which you can monetize your app in any way, and then ASO will benefit you in terms of an augmented revenue from all the additional downloads you are receiving using ad campaigns. Earn More revenue Through YouTube. Get to 8 Secrets To Grow Your Youtube Channel Fast.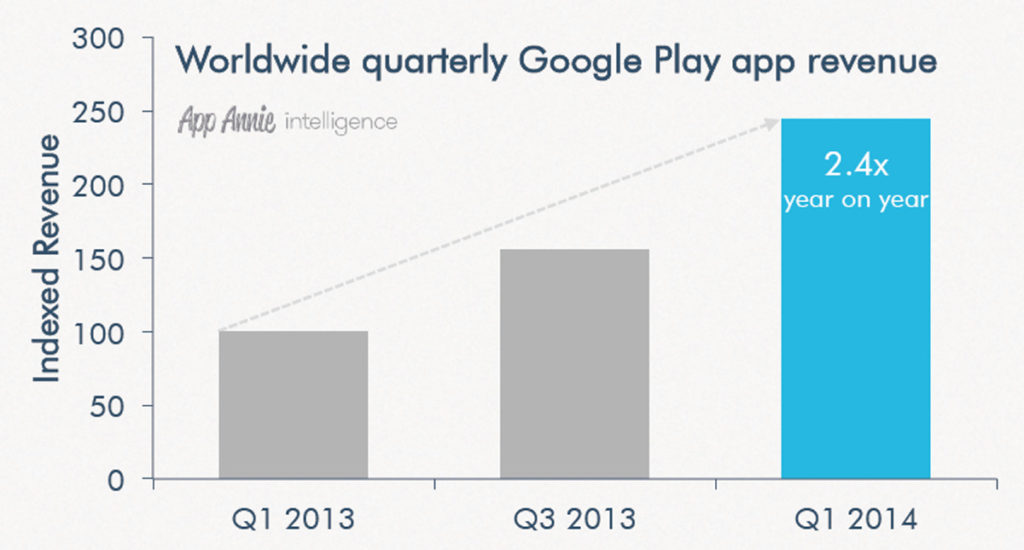 It is a known fact that the amount of traffic that you receive on your app, the higher it will rank in the Google play store search results. To drive more traffic, the ASO experts use various SEO, SMO techniques by posting relevant content about your app on various platforms, press release sites, and review sites.
Adding app in the Right Category
Well when it comes to search, it is important to place your app in the right competitive category so that your target audience finds it easily and this step also helps in ranking higher in the relevant category of apps, as it can cause you less trouble.
Searching the right Keyword is a brainstorming task for your app. You need to add the highly searched keywords with less competition in the market for optimization practice. You can repeat a keyword 5 times in a description page in the store according to SENSOR TOWER.
Want to boost your ROI through your business app? If yes then using a good title for the app not only engages your potential customers but also ranks app higher in app stores. To create a keyword-rich striking description to grab customers' interest right away.
Increases positive Reviews and ratings
As we know that Google Play ASO Optimization encourages positive ratings and reviews that have a huge impact on your App downloaded rate. People usually check the ratings and review section before downloading an app.
Just like the home page works for a website, a title and description work for your mobile application. To keep hold of your potential customers, you need to make your description for the application eye-catching by thinking from your customers' viewpoint.
Google app search optimization technique boosts the installation rate of your app. The increased downloads eventually increase the revenue of the app that makes the app stable in the market. So, by implementing continuous efforts on the Android app store page you can keep the organic traffic rate stable that will continuously maintain your rank in the Android app store search.
Conclusion:
 IN nutshell, we can say that Google play store ASO is an endless process, so keep your app ahead in the marketplace you need to implement new things every time. Moreover, you can add these 10 ways in your ASO practice to optimize your app and reap better leads from your mobile app in the future. Follow my blog Learn & Publish.
Suggested- Search The Applications In The 9apps?